Description
GC is able to bring industrial equipment into a traditional commercial equipment market. Energy savings and reliability are built into our designs, reducing necessary installed equipment, all with significantly better ability to control every aspect of your grow cycle.
Frigadon chillers have a proven track record in many industries around the world, and the cannabis industry is the next emerging market to benefit from the multi-circuited, single-liquid-loop design. Cooling products with liquid Glycol and fluid coolers inside rooms is commonplace. Grow Controlled is adding a warm loop of Glycol for efficient and improved RH control. The simplicity and integration of the chiller within the GC control system allows for highly accurate temperature and RH conditions, giving the grower the flexibility to meet their custom grow requirements with the touch of a button. A single chiller can operate many rooms, even with different room usages, and in most cases, an entire facility.
To substantially reduce operating costs, GC has developed a method of humidity control in rooms without the use of costly dehumidifiers. Heat reclaim utilizes otherwise wasted heat from the condensers and transfers it to custom designed fluid coolers inside the grow rooms. These custom low profile, vertical flow, dual-discharge heat exchangers incorporate both cold and warm fluid loops. By running them both in harmony, we are able to manipulate dew points and pull moisture out of the air with ease. The end result is a replacement of the staggering amount of energy required of conventional dehumidifiers with a small and efficient circulation pump, at a fraction of the operating expense.
Never before has it been so easy to install and commission a refrigeration system. Chillers come with complete controls and electrics, Bitzer compressors, as well as built-in circulator pumps on inverter drives. Just connect the power supply and the flow/return pipes on the liquid side and you are ready to go!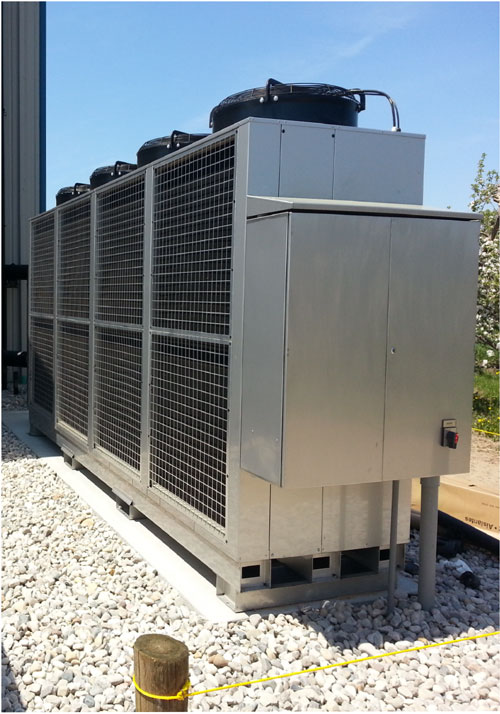 B E N E F I T S
Environmentally-Friendly Design
Minimal Footprint – Indoor or Outdoor
Expedient Installation & Low Maintenance
Reduces Operating Expenses Substantially
GC Design Eliminates Dehumidifiers
Control Vapor Pressure Deficit
Frees Valuable Grow Room Space for
Lights, Plants, etc.
Control within 1°­F & 1% RH
Web-Based Remote Monitor & Control